Grace Race
Monday, May 29th
(Memorial Day)
The Grace Race is an annual running event that raises money and awareness to feed children around the world through a partner organization called Feed My Starving Children. The 13th annual Grace Race is a Western Reserve Racing chip-timed 5k event along with a 1-mile fun run that starts and finishes on the track of Copley High School.
Inflatables, games, vendors, activities, giveaways, and sponsors will be on the Copley High School turf throughout the morning making it a community event for everyone to enjoy! You don't have to be a runner to be a part of the Grace Race. Invite a friend and join us on Memorial Day, May 29, as together we feed children with every step!
This year's Grace Race T-shirt
Big shout out to the winner of the Grace Race t-shirt design challenge Scott Honeycutt! Thanks, Scott, for designing this year's Grace Race t-shirt!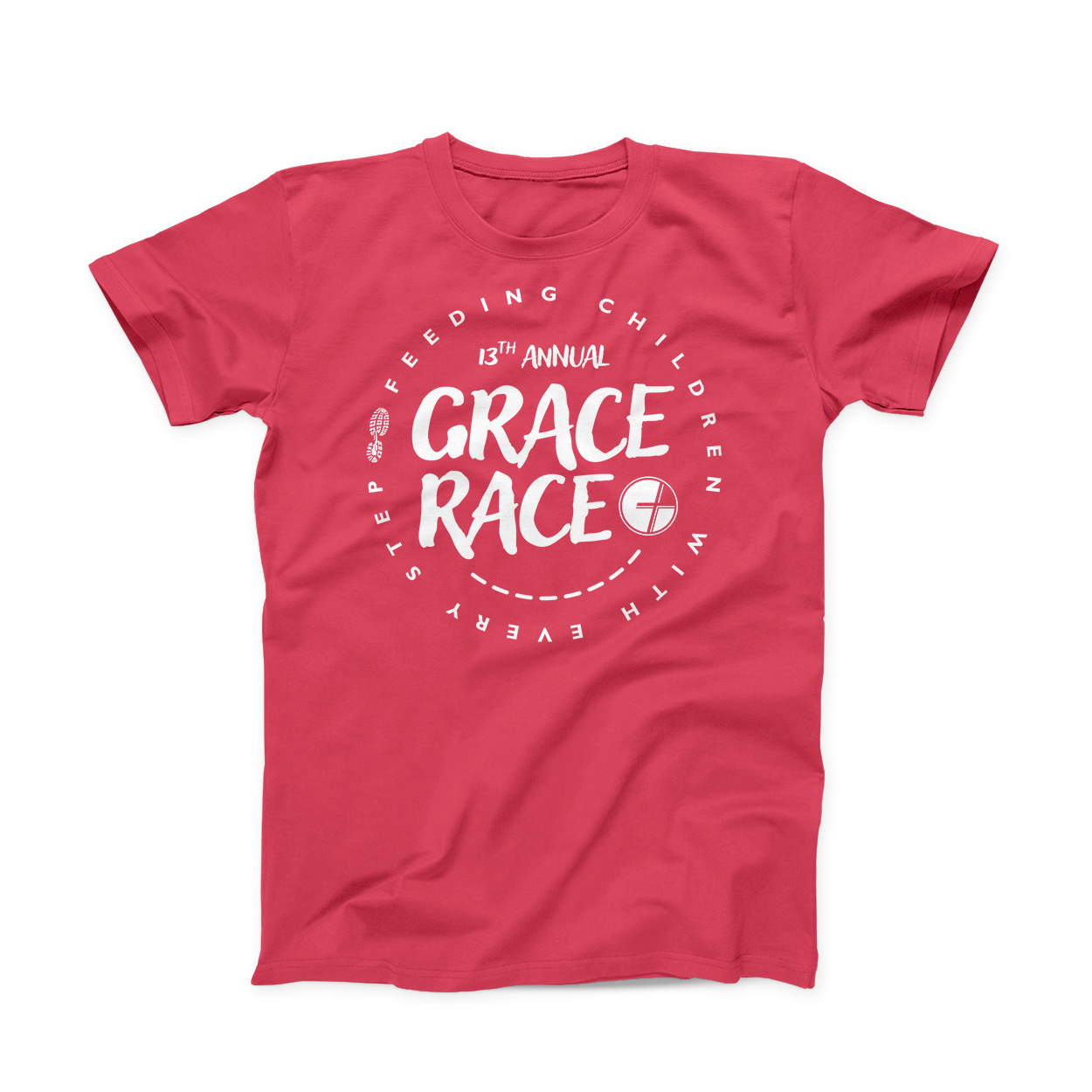 April 8th – Registration opens
May 8th – Registration price goes up (cannot guarantee shirt by race day)
May 29th – (day of event) Price increases
3 EASY STEPS TO BE A PART OF GRACE RACE

STEP 1 – Sign Up
We encourage everyone to participate in person on Monday, May 29th to help feed as many starving kids as possible!
If you can't make it in person you can still sign up to race anyplace. There are three different options to choose from (1 Mile Fun Run, 5K, Virtual Run).

STEP 2 – INVITE OTHERS
Don't do it alone! Invite others to join you on race day and share the Grace Race experience together!
This year, we would also love to see people participate anywhere. So if you have family or friends who live anyplace else, make sure to invite them to participate too, because the great thing about Grace Race is that it can happen anyplace.
#gracerace STEP 3 – SIGN UP FOR A PACKING EVENT
For the last 12 years, Grace Church has hosted the Grace Race, which benefits Feed My Starving Children (FMSC), a Christian non-profit organization committed to feeding God's children hungry in body and spirit.
The approach is simple: volunteers hand-pack meals specially formulated for malnourished children, and FMSC sends them to mission partners running orphanages, schools, clinics and feeding programs around the world. FMSC food has reached nearly 70 countries in its history.
We will need over 2,500 volunteers to participate in the packing event to pack 500,000 meals!
May 30th-June 2nd

SHARE THE EXPERIENCE
Post a picture, your course, your distance, your results, or your story to help inspire others to "feed children with every step".